Climate and environmental protection
At DMG MORI, sustainability and technology leadership have formed a symbiosis for many years. We take responsibility to protect the climate and the environment and, in particular, to contribute to decarbonization. To this end, we follow a 360° approach: we focus on a resource-efficient, climate and environmentally friendly behavior at DMG MORI worldwide and with our partners.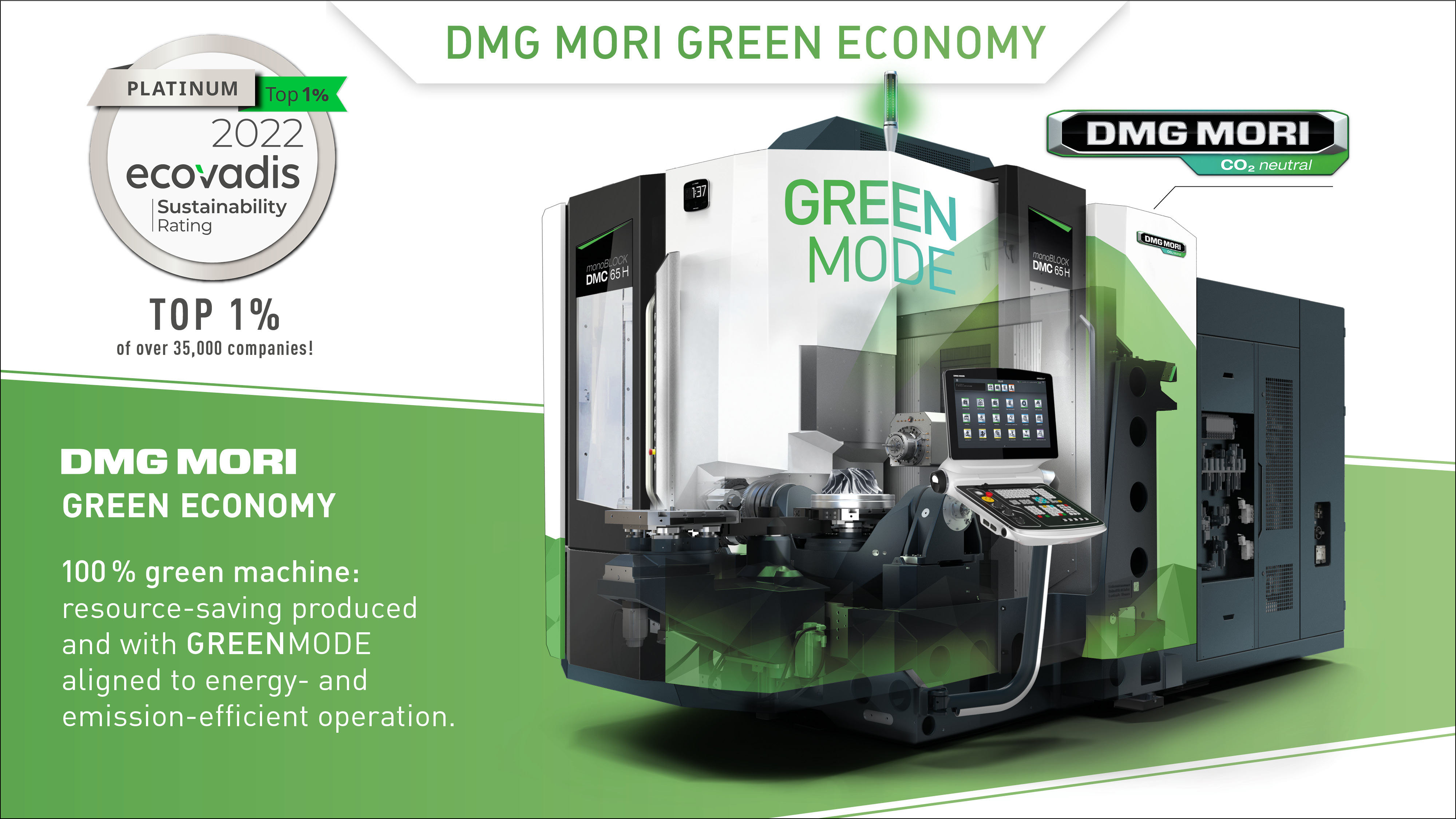 DMG MORI is one of the most sustainable industrial companies worldwide. We act actively in every section of our value chain and rely on sustainable business models. Wherever possible, we save resources along the entire value chain: in the upstream processes of our supply chain, in our own production, in machine operation at our customers' sites and in the refurbishing or recycling of our machines.
In short: Our DMG MORI GREEN ECONOMY sets new standards. For us, resource-saving machine manufacturing is already a lived reality today. Under DMG MORI GREEN ECONOMY we summarize all initiatives for the "100% green machine":
1. GREENMACHINE
2. GREENMODE
3. GREENTECH

GREENMACHINE – resource-saving produced machine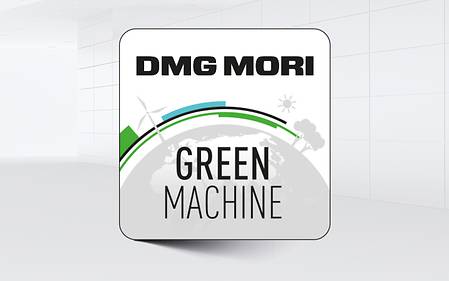 DMG MORI has already had a balanced Company Carbon Footprint since 2020 and a balanced Product Carbon Footprint since 2021 via the climate triple "Avoid – Reduce – Compensate". The calculation is based on the Greenhouse Gas Protocol Corporate Accounting Standard (GHG Protocol), the internationally recognized standard for greenhouse gas accounting. Our company carbon footprint has already been zero since May 2020. This includes emissions from scope 1, scope 2 and scope 3 (categories 1 paper, 3, 5, 6 and 7). We have been compensating our Product Carbon Footprint already since 2021. This also includes emissions from upstream processes along the supply chain, primarily from scope 3 (categories 1 purchasing materials and 4) as well as from downstream processes at the customer and at the end of the product life cycle (categories 9, 11 and 12).
We avoid and reduce emissions wherever possible. We compensate unavoidable emissions with CO2 certificates. The projects are aimed exclusively at green infrastructure and are certified to high standards, including by the UN or WWF (World Wide Fund For Nature), and their effectiveness is confirmed. Their function and the amount of CO2 saved are regularly checked by independent auditors.
At the same time, we are working intensively with our suppliers to sustainably reduce their CO2 emissions as well. Our energy management system is certified to ISO 50001 and our environmental management to ISO 14001.
DMG MORI Neutral Carbon Footprint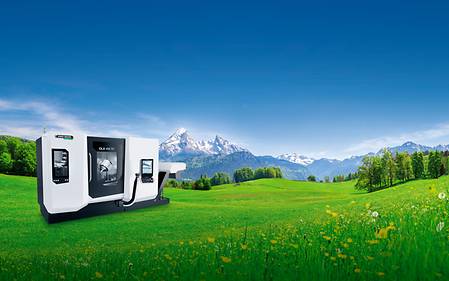 The detailed report on the DMG MORI Neutral Carbon Footprint - our path to climate neutrality - can be found here:
GREENMODE – the resource-efficient machine operation at the customer's site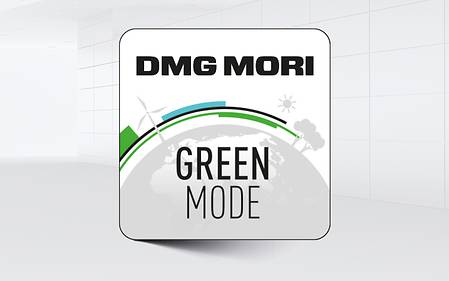 DMG MORI machines also sustainably protect the environment during operation at the customer's site. With GREENMODE, we consistently increase the energy and resource efficiency of our machines (scope 3 downstream). GREENMODE includes, among others:
specific CELOS APPs such as the "ENERGYSAVING" app,
consumption-optimized components, such as LED lighting and energy-efficient cooling units,
the recovery of braking energy,
reduced warm-up and
an intelligent, demand-oriented control of aggregates.
We also increase resource efficiency with high quality and precision as well as comprehensive automation and digitization solutions that enable our machines to run around the clock and with maximum efficiency – saving our customers valuable resources. We also improve machine efficiency through a high level of technology integration and extend the lifetime with our service excellence.
Compared to the predecessor models, energy savings of up to 40% can be achieved. In addition, we are always available to advise our customers and provide them with information on energy-saving operations, for example. The effectiveness of our energy efficiency measures and our calculation methods has also been confirmed by the renowned TÜV SÜD Industrie Service GmbH: DMG MORI GREENMODE was awarded the TÜV SÜD EME certificate in January 2023 as the first machine tool manufacturer in Germany.
GREENTECH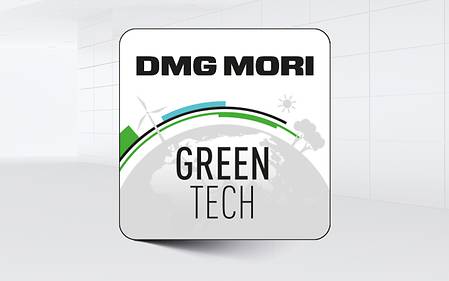 DMG MORI pushes green technologies. Our customers manufacture highly innovative components on DMG MORI machines - for example for wind power plants, hydroelectric power plants, fuel cells or electric mobility. This is a major lever to significantly combat climate change.
We are therefore committed to the production and further development of green technologies together with our customers - this is what we summarize under the label "GREENTECH". In Excellence Centers, DMG MORI has been building up specific know-how for its customers worldwide for years.

Climate-Related Financial Disclosure based on TCFD-Recommendations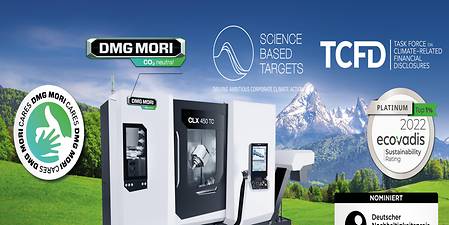 To underline our ambitions and make them measurable, DMG MORI has committed itself to the goals of the "Science Based Targets" initiative, which is dedicated to limiting global warming to no more than 1.5 °C since September 2021. The emission targets derived from this for DMG MORI are mandatory minimum targets for us. The "Science Based Targets" initiative has reviewed and certified our company-wide targets for reducing greenhouse gas emissions:
DMG MORI AG commits to reduce absolute GHG emissions in scope 1 and 2 by 46.2% until 2030 – using 2019 as a base year.
DMG MORI AG commits to reduce absolute GHG emissions in scope 3 by 13.5% until 2030. DMG MORI will raise this target to 27.5% in financial year 2023.
DMG MORI AG aims to achieve a science-based net zero emissions reduction target in the long term by 2050 at the latest.
Furthermore, we are committed to implementing the guidelines of the "Task Force on Climate-related Financial Disclosures" (TCFD) and thus follow the recommendations for voluntary and consistent disclosure of climate-related information. The detailed report is available here:
Sustainability Report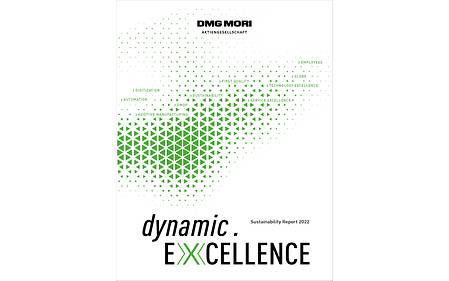 We report on our activities annually in the DMG MORI sustainability report. It provides a detailed and comprehensive sustainability balance.
With our high-precision, sustainable machine tools and holistic technologies, we create opportunities to improve the lives of generations. In addition to environmental and climate protection, we focus on the satisfaction and health of our employees. We promote and demand diversity and equal opportunities. We pay attention to compliance in all respects and are committed to the common good with donations and various campaigns. This sustainability report shows how successful DMG MORI already is in terms of "Sustainability" and which goals we are pursuing.